Reversal Expert is a profitable Expert Advisor for Metatrader 4 and 5.
Description
The robot enters on reversal signals to make quick profits. When the target is not reached, the position is slowly increased until it becomes profitable (see screenshots below).
Best results are observed on GBPUSD, USDCAD, EURGBP and AUDUSD on the M15 timeframe.
Advantages
Tunable risk.
Can work on several Forex pairs in the same account.
Large user base since 2013.
Lot size automatically adapted to your balance.
Reactive support channel.
Backtested since 2007.
No parameters to optimize (because optimizing is cheating).
Works well with a common DSL line (but VPS is recommended for set&forget).
The same algorithm works since 2013, no upgrade planned, no "new settings to fit the market...".
Very easy to install.
Parameters
Risk: This parameter applies a ratio on your Balance level to decide on the Lot size.
I recommend to leave the default value.
However you may want to test other values with Strategy Tester. No other parameter is tunable.
How Does It Work?
Reversal Expert applies the best known techniques for automated trading. There are basically 2 main modules:
Finding good entry points
The robot detects situations where a movement is expected soon. Pending orders are set for a brief amount of time and are deleted if the expected movement doesn't happen. You will see many canceled orders, this is perfectly normal.
Exiting with a profit
Once a position is opened, the robot will look into a quick profit. If it doesn't happen, a recovery mechanism will take over the situation to avoid a loss, so the customer always ends positive.
Recommendation
The recommended minimum balance is 2500 EUR (Risk=0.16). But you can use this Expert with less balance, just increase the Risk:
2000 EUR → Risk=0.19.
1500 EUR → Risk=0.28.
1000 EUR → Risk=0.45.
Actual Live Performance
Total for 2015     | 1775.33 EUR
-------------------|------------
January            |   72.76 EUR
February           |   98.14 EUR
March              |  281.23 EUR
April              |   234.9 EUR
May                |  165.26 EUR
June               |    75.4 EUR
July               |  156.28 EUR
August             |  129.35 EUR
September          |  126.13 EUR
October            |  187.88 EUR
November           |  186.37 EUR
December (current) |   61.63 EUR


Total for 2014 | 1133.28 EUR
---------------|-------------
January        |  184.17 EUR
February       |   94.35 EUR
March          |   89.42 EUR
April          |  106.29 EUR
May            |   36.32 EUR
July           |   64.96 EUR
August         |   20.12 EUR
September      |   80.35 EUR
October        |  221.09 EUR
November       |  150.69 EUR
December       |   85.52 EUR
Simulation reports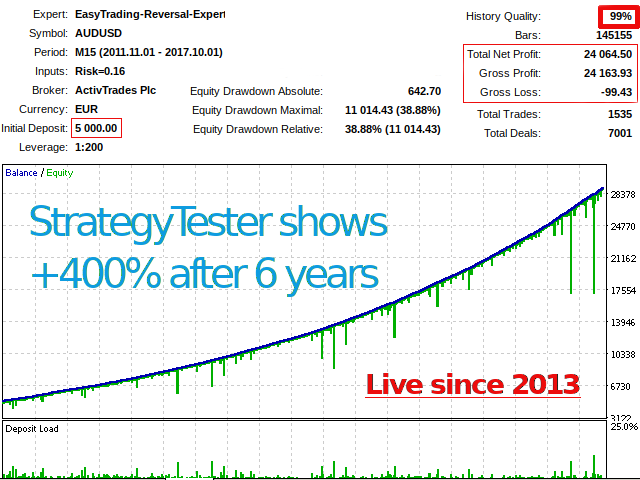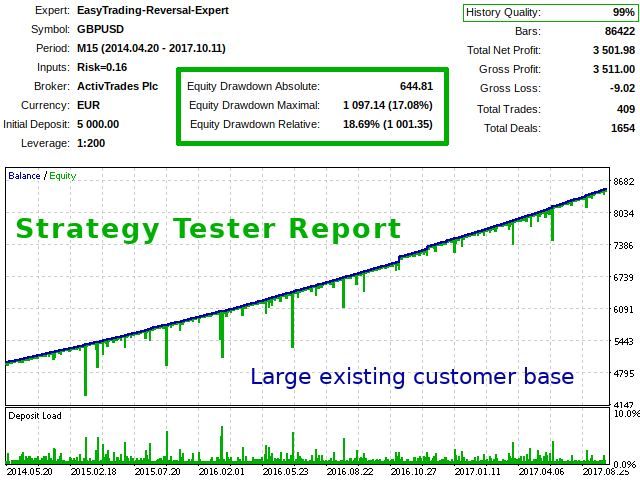 About EeasyTrading
EasyTrading's purpose is to bring powerful and easy-to-use tools for every trader. With my Reversal Expert software, I've taken and combined the best systems that works on a long period, specially for you, so that regular profits are made, without anything complicated to setup, with proven results over many years (see below).
How to use Reversal Expert
To trade Forex, you simply need a Forex account, that you can open from many of the available Forex Brokers. I have accounts from many brokers to test my products, it is very easy to open one. Here are a few examples:
ActivTrades
FXCM
Alpari
...
Some of them only require a few euros to begin (€300/$300).
After having installed MetaTrader, you could:
buy/sell currencies from the real-time charts just by clicking,
use indicators (moving averages, RSI, Center of Gravity...) and
run Expert Advisor: they're robots which will trade for you.
Here's a MetaTrader screenshot: