Timing is a high performance oscillator indicator for Metatrader 5 to confirm trading signals.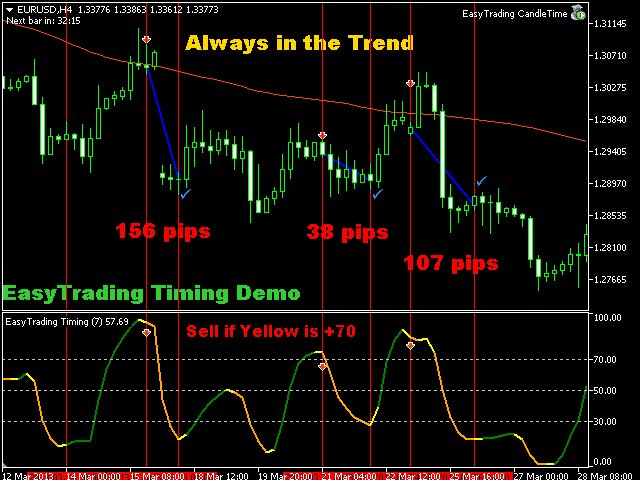 This is the famous Timing Indicator
You can now use the most famous Timing indicator on the planet.
Millionaire Mostafa Belkhayate earned his reputation by using this specific indicator to validate the entry signals supplied by his also famous Center of Gravity indicator on the Forex market. I spent hours, days, weeks to decrypt the formula and now it is finally available to you.
New and Unique for MetaTrader 5
Timing will give you perfect validations for your entry signals. It is the first time this indicator is made available for MetaTrader 5. I've made extensive search for it before going into the reverse engineering. No one ever published Timing using MQL5.
The only place you can find it is on the MQL5.com Market. It doesn't exist elsewhere on the Internet. Don't hesitate to Demo it to check its power!
What is Timing?
A Timing indicator gives the perfect Time to enter a position. It must be used in combination with another "main" indicator. Its purpose is to improve the main indicator efficiency.
When trading your own strategy, when you have a Buy or Sell signal, have a single quick look at the Timing indicator and wait for the "OK GO NOW!" yellow signal to extensively improve your profit rate.
If Timing doesn't give a Go, this shouldn't be the best time to enter. Without Timing, you wouldn't get the best profit for your trade. Or even worse, you could get a loss.
Immediate Result
By using the 3-color code, you IMMEDIATELY know how is the market. YELLOW means GO! Green or Red mean the market isn't ready yet.
Use the default settings and look at the oversold (30) and overbought (70) levels.
The Secret Formula Finally Deciphered
The Belkhayate's "secret recipe" made him famous and has never been explained by anyone. We didn't know what the algorithm was. I spent whole nights and days to guess, by trial and error, trying Moving Average, RSI... figuring out the values used... until I find exactly the same result that Belkhayate had.
Then I spent another bunch of nights and days to benchmark the code in every condition I could imagine. Several timeframes, several values, Forex, CFD, etc. to be sure my own Timing indicator was perfect with no bugs. I want high quality, I want easy-to-use tools for my clients. It's my purpose!
Finally Easytrading Timing was born!
Easy to Install, Setup and Use
Simply click on Buy on your left menu and you're set. Drag'n drop the indicator on your MetaTrader 5 platform. Just let the default settings, that's all! Try it now!
It has only 1 parameter. Just leave it as-is.
Easy to read
Yellow

 

- reversing, it's a good time to enter a trade.
Orange

 

- the market is going down (bearish).
Green

 

- the market is going up (bullish).
Levels: the more the Timing value is extreme (high or low), the more chances it has to come back to the center. To get the best of Timing, only consider when the value is greater than 70 or lesser than 30.
Easy to Buy
Although I spent literally hours working on it during weeks, to find the exact formula used by Belkhayate, my goal through EasyTrading is to supply traders with the easiest and smartest trading tools on Earth.
The EasyTrading Timing indicator is available to you, right now, for only 49 credits. Initially I was thinking about a ten times higher price, but I want each one of you to try it.
Free Bonus for the Ambitious Trader!
More! I'll give my 5-star Center of Gravity indicator for FREE to the first 100 of you who buy Timing. It is a 10-credits gift, but it is a incredibly powerful indicator that reveals immediately what to do on the Forex market.
Just leave me a private message with the exact date when you purchased Timing and I'll send you your specially crafted indicator.
More, More, More
Want more? You'll find on Internet numerous free guides and strategies and YouTube videos explaining how to use Center of Gravity and Timing.
How to Get EasyTrading Timing?
Pre-requisite

You only need a MT5 account (Demo is fine)

Setting up your MQL5.community account

Register an account on https://login.mql5.com/en/auth_register
Once registered, visit your Profile page,
Go to the Payments section,
And finally click Deposit to account
Add enough money to buy the product

Setting up MT5 platform

Open MT5
Go through Tools, Options, Community
Fill Login & Password fields

Buy the product on the Market

Go back to the product page and click on the Buy link
This will open your platform and you can Enjoy your product!